I was recently surveying a landscape design.
All Trees Are Beautiful
While I believe almost every tree is beautiful, I believe every tree should be strategically placed. A white pine shouldn't be placed 5′ from a side of a house and an oak tree shouldn't be placed under a power line. These are just examples.
A Clean Lawn Care Company Vehicle
As I was surveying the landscaping, I noticed something falling on my white pickup truck which was parked on the driveway.
Now, I'm not a fanatic about keeping my vehicle spotless but I think a clean truck portrays a professional image for a lawn care business. Current customers and potential clients have a better image of a company when company vehicles are kept clean.
Berries Stain Cars
I had not been parked on the driveway more than 20 minutes. When I returned, I noticed my truck was covered in purplish splotches.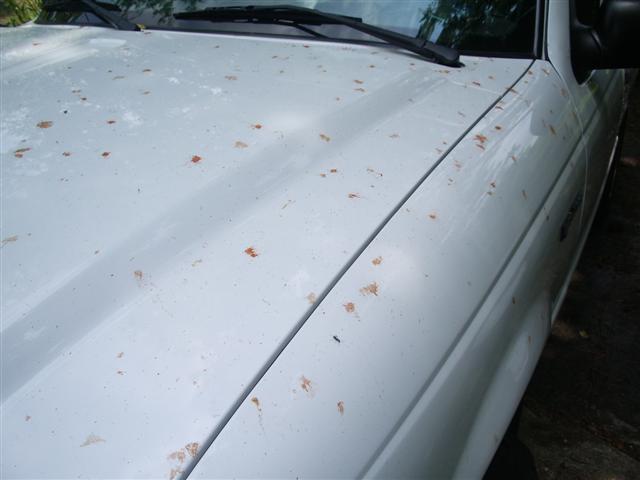 Unwittingly, I had parked under a hackberry tree which was dropping a continuous stream of staining berries on all cars parked on the driveway.
This example serves to reestablish the fact that if you are doing landscape work you should take many factors into account before selecting and placing plants and trees. Improperly placed trees and plants will either die or have to be replaced with more suitable plants by the homeowner.
Landscape Plan
The person who planted the tree (or allowed it to grow) close to a driveway did not plan his landscape design well. A true professional would not have planted a tree so damaging to cars in an area where a much better tree selection could be made.
Start A Lawn Care Business
Planning your lawn care business is similar to planning a landscape job.  If you don't do it correctly at the beginning the long term effects of poor planning can be detrimental for your business.
For help in starting or expanding your lawn care & landscaping business, visit our home page at: StartALawnCareBusiness.com