Air quality issues increasingly impact Lawn Care Business owners.
I am writing this blog post looking through my window on a crystal clear November morning. The sky is colbalt blue and distant Tennessee mountains appear close enough to touch. There is a slight breeze and the frosty morning air is brisk and fresh.
Though crisp November mornings distance me from the thoughts of smoggy Summers days, a billboard I saw this morning forced me to realize the effects air pollution has on our industry.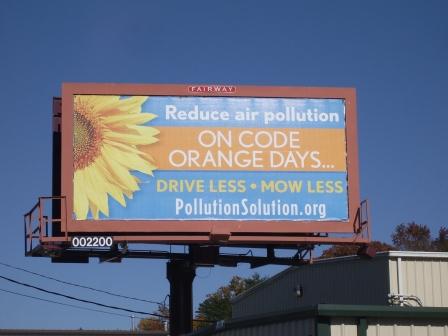 Billboards and other Public Service Announcements have popped up in recent months throughout the southeast. These announcements encourage us to drive less and mow less on Code Orange days.
A Code Orange alert is announced when air pollution is predicted to reach unhealthy levels for sensitive groups. Typically, code orange levels are between 101 and 150 on the air quality index.
Lawn care equipment produce high levels of carbon monoxide, volatile organic compounds, and nitrogen oxides. Two-cycle equipment such as weedeaters and leaf blowers are particularly high polluters. Oil mixed with gasoline causes very high levels of particulates released in exhaust fumes.
As air quality regulations begin to restrict our movements as an industry, opportunities are created which allow us to become an environmentally sensitive industry.
At recent lawn care trade shows, I am continually impressed to see equipment manufacturers furthering their research into low-polluting machines. The largest progress is being made with propane powered string trimmers and lawn mowers.
Propane powered lawn equipment dramatically reduces the air quality lowering effects of traditional commercial lawn mowers and two-cycled weedeaters and leaf blowers. As manufacturers produce higher quality and lower priced propane powered lawn equipment, our jobs of remaining EPA compliant will become easier.
Lawn care companies that begin the process of upgrading their equipment to propane power will find themselves in unique positions of being able to continue to operate their businesses during code orange days.
Next time you see a billboard reminding you not to mow on Code Orange days, think of it not as a restriction to your lawn care business but as an opportunity for you to distance yourself from your competition.
The "Start A Lawn Care Business" guidebooks, estimating software, and training videos will help you run a better lawn care business.
Order your copy at: http://www.StartALawnCareBusiness.com