2009 is dragging to a close and 2010 is barely a month away. 
Wait!!!  WHAT??? 
2010 is just a month away, I can't believe we're already at 2010.
Anyway, this year is no different than any other year in that lawn mower dealers are trying to blow out their old models in preparation for next years crop of commercial lawn mowers.
I see this every year.  If you have the storage capacity and can afford to let a new lawn mower sit idle until next mowing season, right now is a great time to get a good deal on a brand new lawn mower.  If you can't afford to buy a lawn mower and let it sit all winter, dealers will often give you great deals on financing and start payments in the spring of next year.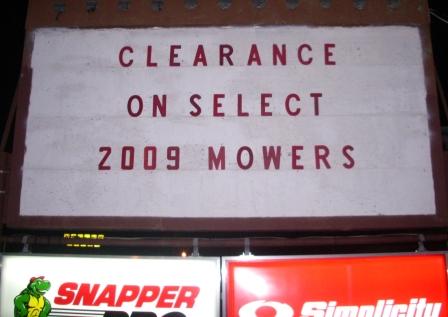 You can often save 10% to 20% on old model lawn mower.
As the grass growth is slowing down, take some time to visit your local commercial lawn mower dealers.  You may be able to make a deal on a perfectly new (though slightly outdated) commercial lawn mower.
If you find a lawn mower you want to buy, ask the deal to service it before the sale is complete.  Though oil and other fluids haven't been used much, get the deal to replace all fluids, check all bolts and fasteners, lubricate all lubrication points, and replace the battery with a fresh one.  If your new lawn mower will be sitting for the rest of this winter, have your dealer add a recommended fuel stabilizer.
If you want to learn more about purchasing commercial lawn equipment for your lawn care business, our guidebook has an entire chapter dedicated to buying new and used equipment.
Check our website for complete information: