If you have run a lawn care business for a number of years, you know that early winter is a great time to tune-up the chain saw, sharpen your chains, don your protective gear, cut damaged limbs, and clear fallen trees.
This can be a very profitable time for lawn care business owners with chain saw skills.  Cutting wood is not for everyone.  However, woodcutting knowledge and chain saw competence can lead to lots of additional cash.
Firewood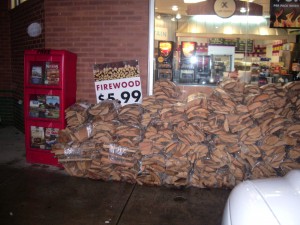 Your customers will gladly pay you to chop fallen or unwanted trees.  If the wood is good, you can spilt and season this wood.  Once cold weather is in the forcast, people with fireplaces or wood burning stoves will pay you for the wood.  We've even heard stories of Lawn Care Businesses who sell wood to the same customers who paid them to haul off the same tree.  Making double money on the same customer is SWEET BUSINESS!
Chain Sharpening
Time is money and sharp chains mean even more money.  If you do lots of chain sawing, consider purchasing a professional chain sharpener.
You don't have to spend $300 for a professional chain sharpener if you only need to sharpen the occasional chain. This sharpener is only $35. It does a decent job and can be used in the field from your truck's battery.
Safety is ALWAYS a strong consideration when you do chain saw work. Here are a few safety items. This list is incomplete but it is a good start to being in full compliance when you are providing tree cutting services for your customers.
Chain Saw Chaps
Chain Saw Safety Helmet
Chain Saw Boots
Chain Saw Gloves
Chain saw work can be a good add-on for your lawn care business. If you want to learn more about starting and running a successful lawn care business, check out our training information at: