How to get lawn care customers: a view from the other side.
Do you miss out on lawn care jobs and wonder why your customers pick your competitors? This article will show you a view from a residential customer's eyes.
Being associated with the lawn care industry for over 17 years and developing lawn care business software, I don't often have the opportunity to hire green industry companies in a retail type setting. When I do hire companies it is mainly for sub-contract work. Sub-contractors work on a professional level. Hiring and working with them, I don't gain a full understanding of a residential relationship.
What can lawn care companies learn from a tree service?
Last week, I had the opportunity to search out and hire a tree service to cut down a tree that was threatening a neighbor's house. I called several companies to judge their price, estimating skills, and delivery of service. Although this was not a lawn care company, I approached this process with the mindset of a residential customer trying to find a lawn care service. Hiring the tree company gave me good insight to our lawn care customers.
Your customers are excited to call you.
I have watched this tree lean at an ever increasing angle for the last two years. During this year's spring storms, I have had nightmares about awakening to a knock on my door from an angry neighbor with a tree on his house. Though I wish I could do this job myself, I was excited to find a company able to handle the work so I wouldn't have to do the heavy lifting and risk destroying a house.
Lawn care customer are equally excited about hiring a professional company. When doing your initial estimates, approach your client with the same enthusiasm you expect from the companies you hire.
Lawn customers employ a variety of advertising media to find you.
In my search for a tree service, I employed word-of-mouth advertising, business cards, internet search, flyers, and those signs you see on telephone polls.


Dangerous tree leaning toward a neighbor's house
Your lawn care business can avoid complaints.
My biggest complaint with companies I called was their failure to return my call. Generally, if I call a service company, I expect a return phone call within one business day. If you really want to impress me, return my call within an hour.
Tree Service Company #1 and #2
I found the first company by seeing their phone number on their truck about 5 miles from my house. I called and spoke to the owner of the company who assured me he would come by the same afternoon to give an estimate. Two days later, he had still not showed up.
The second company was found through a web search. This company did not return the message I left on their answering machine.
Tree Service Company #3
I found this company through a business card pinned to a grocery store bulletin board. The business card caught my eye by being bright green with bold black type on the front and back of the card. The business card mentioned several services offered but it did not specify if they carried insurance. Knowing that one misstep could bring a tree down on a house, I needed a company with insurance. The business card listed a gmail address but did not mention a website. I googled the company name and found a positive article in a local newspaper speaking about environmental consciousness of this company. I called them. The owner was friendly and talkative. He said he would call back to schedule a time when he and the climber could review the tree. Two days later, he called back to say that he had out-of-town guests and would not be able to estimate the job for another two days. Two days later, he called and said he would be over in 15 minutes. He showed up as scheduled and gave an estimate of $350. I asked him about business liability insurance. He said they were insured but he answered in such a way that I questioned whether he really had coverage or not. He was not ready to work and said he needed a 2 day lead to get the tree down. I thanked him and he was on his way.
Almost one week had passed since I first called him.
Tree Service Company #4
I saw a sign on a telephone pole with a phone number. I also had a flyer left on my mailbox with a number. I asked a friend if she knew of a reliable tree company and she gave me a phone number. All three numbers where the same company. I called this telephone number on Friday morning about 11:30 and left a message.
By 12:30, the owner of the company called to ask for my address. At 1:00 a 4 man crew showed up at my property. The lead tree climber surveyed the tree and gave an estimate of $300. I told them I was looking to spend about $200. They called the owner and he refused to budge from their price since the tree needed to be pieced down to guard against it damaging a house.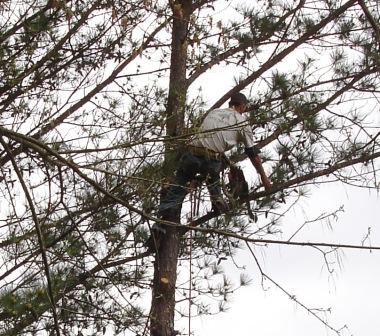 Knowledgeable tree climbers can teach a lawn care businesses how to successfully bid and estimate lawn care jobs.
Your lawn customers seek your confidence.
This crew was confident, knowledgeable, and ready to work immediately. Knowing a storm was brewing that evening and knowing that I wanted my weekend time off to clean any mess left by the tree cutters, I gave them the green light to proceed with the work. Within 5 minutes, the climber fitted his harness and was making his way up the tree. Branches were falling 10 minutes after the workers had arrived at my property.
A dogwood tree, a fence, shrubbery, and a house all risked being damaged by falling branches. All items were safe as this crew expertly dropped each branch and each section of tree exactly where needed to protect my property. Within an hour this four man crew had performed their work and were loading up their equipment, $300 richer. I am happy with their work and I will likely call them back if there is ever a tree I cannot handle myself.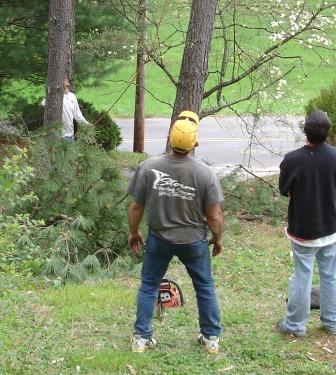 Show up for you lawn care estimate with your lawn mower and other equipment.
These guys got the job because they came ready to work.
Your lawn care / landscaping company can learn a few pointers from my experience.
1) Your customers are excited to call you. They have thought hard about finding a lawn service. They wish
they could do the work themselves but they are pleased with their decisions to hire a knowledgeable and professional company to perform the work. Once they make that call, they expect you to be responsive and quick to show up for an estimate. If you drag the estimating process out too long, they will find another company.
2) Your prospective customers have a general idea what they will pay for their lawn care work. If your price is a few dollars over their expectations and you can prove to them why the estimate is fair, they will likely hire you. However, if you are significantly over their expected price and you are not professional in your presentation, they will look elsewhere for a better estimate on the lawn care or landscaping job.
3) Your lawn customers expect to be treated with respect. When you give a date or time for your estimate, keep
to your time table. Making a customer wait is disrespectful. Also, your customers are proud of their yards and they want their property treated with respect. In addition to giving a professional cut, do your best to avoid impacting any property, such as lawn furniture, which may obstruct your cutting path.
4) Show up ready to cut the grass or do the landscape work. Once a customer calls you to do their work, they
are ready to have it done immediately. This isn't true in all cases but normally if a customer agrees on your price you can count on them letting you do the work right away.
Next time you hire someone to perform a service (oil change for your car or having your hair cut) analyze how you are treated to see what you can learn.
Our Lawn Care Business package contains our complete manuals teaching you how to operate a professional and profitable lawn care business. The package also includes a full software suite, video tutorials, and estimating calculator software.
Visit our site at:

http://www.StartALawnCareBusiness.com